Automotive Technologies Electronic tech features play a critical role in today's SUVs, cars, trucks, and minivans, shaping the way we interact with our vehicles and how they interact with other cars on the road. These features encompass a range of functions, from safety and security measures to communication and connectivity features.
To assist you in selecting the best automotive technologies for your new car, we have compiled a list of features. While some of these Automotive Technologies features serve as protective measures that you may never have to use, others are designed to aid with parking and visibility. Additionally, certain tech features enable you to stay connected with loved ones or quickly reach emergency services. When searching for a vehicle with these features, it is ideal to look for those that make driving simpler without causing distractions for the driver.
1. Advanced Driver Assistance Systems
This category of systems includes features that can help you identify when a vehicle is in your blind spot, maintain a safe distance from the car in front of you, and prevent your vehicle from drifting into another lane. Anti-lock brakes were one of the first examples of an Advanced Driver Assistance System (ADAS), and they are now a standard feature in all new cars. Modern vehicles are equipped with dozens of these systems.
These advanced driver assist systems are typically bundled together in safety suites such as Toyota Safety Sense, Subaru EyeSight, Ford CoPilot360, Honda Sensing, and Nissan Safety Shield 360. Even if the vehicle you are considering does not come with ADAS as a bundle, many automakers offer them as standalone options or include them in specific trim levels.
Adaptive Cruise Control: Adaptive control is similar to regular cruise control, but it also maintains a safe distance from the vehicle in front of you by slowing down or accelerating as needed.
Blind-Spot Alert: This system uses sensors on the vehicle to detect vehicles in your blind spot and alerts you with a warning on your side mirrors. Some pickup trucks also have blind-spot alerts that consider vehicles next to either side of your trailer while towing.
Cross-Traffic Alerts: Rear cross-traffic alert notifies you if a vehicle is approaching while you are backing out of a parking space and cannot see around the vehicles on either side. Front cross-traffic alert is useful when exiting a blind alley or driveway. Some systems even prevent you from turning left across traffic if a vehicle is in your path.
Forward Collision Warning/Avoidance: Forward collision warning (FCW) detects if there is a potential collision with the vehicle ahead, and some systems can even sense a collision a few vehicles ahead. FCW can alert you through sounds, display lights, or changes in the steering wheel or brake pedal. Forward collision avoidance uses FCW sensors and can automatically apply the brakes to prevent a collision if the driver does not respond quickly enough.
Lane-Departure Warning: This system alerts you if your vehicle begins to drift into another lane.
Lane-Keep Assist: If your vehicle does drift into another lane, lane-keep assist uses steering to keep your car in the lane. Some systems can also steer your vehicle back onto the correct side of the road if you drift into oncoming traffic.
Reverse Brake Assist: This system uses automatic emergency braking to prevent collisions while backing up by detecting objects behind the vehicle.
2. Automatic Emergency Braking
The aforementioned examples demonstrate the significance of automatic emergency braking (AEB) as a crucial component of safety technology. In the event of an impending collision, AEB automatically applies your car's brakes, potentially preventing or reducing the severity of an accident. AEB can react faster than a human driver and can begin working even before the driver hits the brakes. Furthermore, if AEB detects that the vehicle needs to stop sooner than the driver is braking, it can apply more pressure than what the driver is exerting.
Although AEB is often incorporated into advanced driver assist systems, it is also available as a standalone feature and should be considered a top priority. The National Highway Traffic Safety Administration (NHTSA) reports that automakers have committed to incorporating AEB and forward collision warning into almost all new passenger vehicles by August 31, 2023, as part of a voluntary initiative. Some automakers have already made these systems standard on their vehicles.
3. Connected Mobile Apps/Digital Key
Our reliance on cell phones has become immense, and some automakers recognize this fact by making it easier for users to access their car's features through their phones. Almost every car company has developed an app that can be downloaded, with some apps being more advanced than others. The most advanced ones can remotely lock and unlock the doors, check fuel levels and tire pressure, and even remotely start the car – especially useful on chilly mornings.
These apps can also display important maintenance information, such as remaining gas levels or electric vehicle range. Users can find nearby dealerships, gas stations, or charge stations, and even schedule maintenance through the app.
The digital key has built-in security features that exclusively link your phone to your car, offering an additional level of protection. With the digital key, users can lock and unlock their car by holding the smartphone near the door and even drive the car using only their phone. Various Automotive Technologies security measures ensure that only authorized individuals, including those who have received explicit permission from the owner, can access and operate the car.Technology Revolution of Electrical Cars
4. Teen Driver Tech
This Automotive Technologies features is designed specifically for parents with young drivers in their household. One well-known feature is GM's Teen Driver suite, which is accessible on select Chevrolet, GMC, Buick, and Cadillac cars, trucks, and SUVs. The purpose of Automotive Technologies Teen Driver is to offer additional safety measures for new drivers, providing peace of mind for parents who entrust their children with a vehicle.
The system Automotive Technologies can alert you if the car exceeds a certain speed, disable the audio if seatbelts aren't in use, filter out inappropriate content (if SiriusXM satellite radio is available), and establish a volume limit on the sound system. Parents can even obtain a report card that informs them if safety systems such as ABS or forward collision alert were triggered while their child was driving.
Moreover, many Ford and Lincoln models come equipped with the MyKey system. In use for over a decade, MyKey enables parents to customize specific settings within the remote fob for younger drivers. It's possible to program the fob to restrict the vehicle's maximum speed, keep traction control constantly enabled, maintain 911 assistance, regulate audio volume, and activate a "do not disturb" mode for smartphones. Automotive Technologies Additionally, MyKey can prevent the stereo from playing until both the driver and front passenger have buckled their seatbelts. Another useful feature is that MyKey can provide early notifications about low fuel levels to teen drivers.
With Hyundai's Bluelink Automotive Technologies system, parents can establish preferences for younger drivers in the household. The system provides a curfew alert, car finder, geofence alert, and speed alert. Additionally, there is a monthly vehicle health report available, and parents can configure preferences for vehicle maintenance.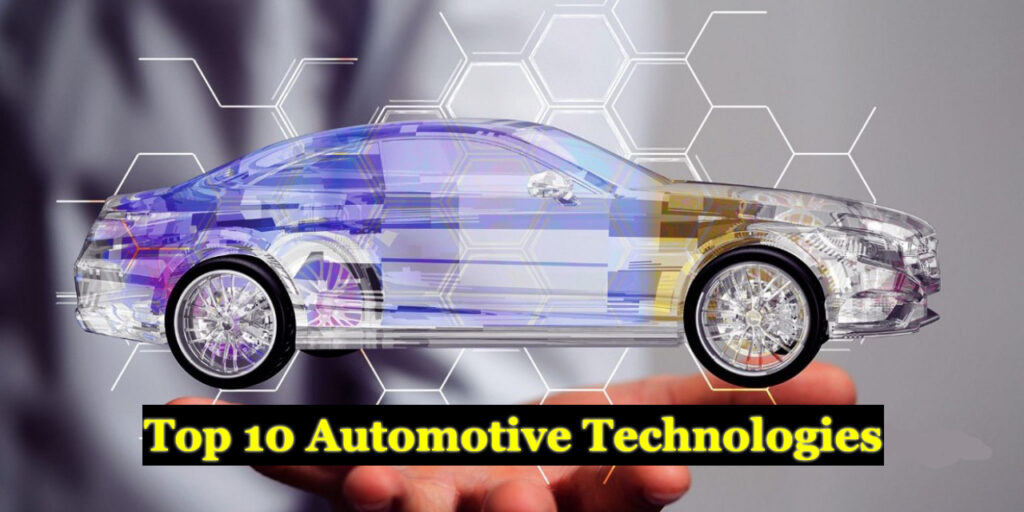 5. Safe Exit Assist to Protect Cyclists
Riding a bicycle in the city is a continuous challenge as cyclists need to remain vigilant of not only moving vehicles but also parked cars. Automotive Technologies To assist both drivers and cyclists, a useful feature is the exit warning system which employs rear sensors to identify incoming traffic and bicycles. This helps avoid any mishaps where a passenger might inadvertently open a car door as a cyclist passes by.
These warning systems are also effective when a vehicle is approaching. If you are parked on the roadside and your passenger wants to exit the car, the sensors can identify the presence of traffic and prevent the door from being opened.
The exit warning systems are designed to remain operational for several minutes even after the engine is turned off. In the event of an incoming vehicle or bicycle, the sensors trigger a series of bright lights to alert the passenger. For the most advanced systems, the door is physically secured by activating the child safety lock to prevent it from opening and obstructing the path of the incoming object.
6. Wireless Smartphone Connectivity and Charging
Automotive Technologies Having wireless smartphone connectivity and/or charging in your vehicle is an excellent method for reducing clutter around the transmission shifter. By utilizing a charging pad, the space becomes a convenient storage spot for your phone. Therefore, we suggest searching for a vehicle that fits within your budget and offers both wireless connectivity and charging.AAA Auto Insurance
7. 360-Degree Camera
A 360-degree camera is an increasingly popular feature that can now be found in new cars across various price ranges. It is a highly convenient and user-friendly technology that can minimize car damage.
By using cameras on all sides of the vehicle and innovative technology, the car's display can provide a virtual top-down view of the surroundings. This allows drivers to see the sides of their garage or confirm whether they are parked within the lines at a parking lot. The feature is also beneficial for parallel parking.
While reverse brake assist and cross-traffic alert assist in avoiding collisions when reversing out of a parking spot or driveway, the 360-degree camera can prevent accidents while parking. This can help keep the car free from scratches and dents while also reducing insurance claims for minor collisions. The camera is especially helpful when parking a larger vehicle.
8. Emergency Services/Stolen Vehicle Tracking Software
The number of motor vehicles stolen in 2020 exceeded 810,000, which is a concerning figure highlighting the need for inbuilt vehicle tracking technology. If your vehicle is equipped with such a system, it becomes much easier for law enforcement to locate your car, potentially minimizing any damage caused. For instance, OnStar can remotely decelerate a stolen car and prevent it from restarting once turned off.
Various car manufacturers offer stolen vehicle tracking technology as part of their assistance and security systems, including Subaru Starlink, Kia UVO, Hyundai Blue Link, and GM OnStar.
These systems are not solely beneficial in the case of car theft. They can also aid rescue services in locating you following a car accident, identify a car's precise location to locate individuals during a natural disaster, assist in finding elderly family members who may require assistance, or ensuring the safety of teenage drivers.
9. Blind-Spot View Monitor
Having a clear view of your surroundings while changing lanes can be very beneficial, and a blind-spot monitor can provide just that. By utilizing small cameras placed on both sides of your vehicle, this technology can display any traffic present in adjacent lanes, potentially preventing accidents involving other vehicles or even bicycles and motorcycles. While there are various types of blind-spot monitors available, we recommend opting for models that feature easily visible displays within the gauge cluster, as found in Genesis, Kia, and Hyundai cars.
10. Video Rearview Mirror Automotive Technologies
Those who have experienced packing their SUV to the brim with goods at a large retail store are likely familiar with the loss of visibility in the rearview mirror. Fortunately, a video rearview mirror can resolve this issue. This type of mirror is equipped with a camera mounted at the rear of the vehicle, which displays the view behind it. Although it is situated in the same location as a traditional mirror, you can switch between the standard and video views. This type of mirror is also useful for towing, as it provides a wider perspective of the road while enabling you to monitor your trailer.